Entrega No 98.
Algo de buen Punk......!!!.
Y esta vez es una gran banda que ha sido pionera de lo que se conoce como Punk Melódico, ese Punk donde hay armonía bajo la distorsión de las guitarras, voces afinadas y coros entonados. Comenzaron por ahí de 1986 en Chicago Illinois USA, desde entonces han tenido lapsos de inactividad ahora son una banda disuelta, pero indudablemente son pieza clave e influencia de muchas agrupaciones de la escena Punk su nombre es
Screeching Weasel
.
Retoman toda la escuela Ramonera, la "pulen" y le dan su sello particular logrando así un sonido sencillo, pero muy bien estructurado y de muy buenas hechuras, no es el Punk vertiginoso, rápido, salvaje y ruidoso, son riffs potentes muy bien ejecutados, temas agradables llenos de energía.
Este es su noveno album de estudio grabado diez años después de su formación titulado "Bark Like A Dog", un muy buen album de una banda madura y de mucha calidad.
Screeching Weasel / Bark Like A Dog (1996 Fat Wreck Chords Records).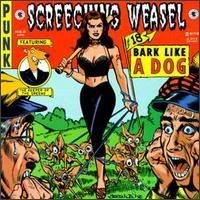 Tracklist.
1. Get Off My Back
2. Cool Kids
3. The First Day Of Summer
4. You'll Be In My Dreams Today
5. You Blister My Paint
6. Stupid Girl
7. Phasers On Kill
8. Handcuffed To You
9. (She Got) Electroshocked
10. It's Not Enough
11. I Will Always Be There
12. Your Name Is Tattooed On My Heart
Escúchalo!.