Entrega No 105.
Punk, Swing & Rockabilly !!!!!!.
Son los estílos que combina esta sensacional banda formada en el ocaso de los años 90's en Boston Massachusetts, son ocho sujetos que comenzaron su aventura musical bajo la influencia del Rock N' Roll de los años 50's y el Punk de los 70's ellos son
The Kings Of Nuthin'
.
El sonido de estos tipos es realmente bueno! ejecutan bastante bien es mezcla de estílos, sonidos y matízes, pianos, guitarras y saxofones adornando la base de bajo y batería, canciones pegajosas que invitan a mover los zapatos a con un buen "rock n' swing".
Este es su segundo album "Fight Songs" editado en el año 2002, y es un gran disco de esta muy buena banda.
The Kings Of Nuthin' / Fight Songs (2002 Disaster Records).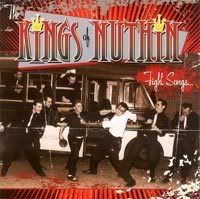 Tracklist.
1. Intro New Thing Nuthin
2. Shit Out Of Luck
3. Waitin To Leave
4. Nuthin To Lose
5. Where Do We Go
6. The Kids Will Have No Say
7. La Chupacabra
8. Drive All Night
9. Iron Out The Irony
10. Callin To Let You Know
11. All Ive Lost
12. Nailhead
13. Another Year
14. 11 To 3
15. Fight Song For Fuck Ups
Escúchalo!.