Entrega No 103.
Del Swing y el Big Band!!!!
Esta vez se trata de
Brian Setzer Orchestra
. El líder de la legendaria banda de Rockabilly Stray Cats en otra aventura musical donde se hace acompañar de toda una orquesta y en 1990 retoma el sonido Swing y la escencia del Big Band para hacer las delicias de esos nostalgicos que gustan de mover los pies al ritmo de trombones, saxofones y trompetas a ritmo de Rock N' Roll.
En este gran album, Setzer y compañia interpretan versiones de temas clásicos de esa época con un su estílo propio y el sello que lo caracteríza .............................A bailar todo mundo!!!.
Brian Setzer Orchestra / Best Of The Big Band ( 2002 Toy's Factory Records)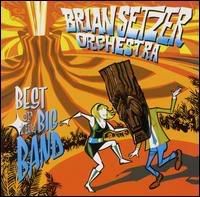 Tracklist.
1. Gettin' in the Mood
2. Rumble in Brighton
3. This Cat's on a Hot Tin Roof
4. Jump, Jive, An' Wail
5. Sexy, Sexy
6. Sleepwalk [Instrumental]
7. Strat Cat Strut
8. Rock This Town
9. Dirty Boogie
10. Brand New Cadillac
11. Hoodoo Voodoo Doll
12. Lady Luck
13. Caravan [Instrumental]
14. Pennsylvania 6-5000
15. Americano
16. Diablo
17. Scatman Jack
18. House Is Rockin'
Escúchalo!.