Entrega No 94.
Ahora un poco de Surf.....!!!.
Y corre a cargo de
The Phantom Surfers
, banda norteamericana originaria de San Francisco California formada en 1988 y actualmente en activo. Utilizan una especie de mascara similar al mítico personaje El Fantasma de la Ópera. Son una banda reconocida en la escena rock & roll-surf de su país, aunque también traspasaron sus fronteras y existen varias personas que gustan de escuchar su estílo Surf instrumental donde el "plumilleo" y los requintos de guitarra es la parte que adorna y da vida a sus temas de corta duración retomando la escuela y el sonido de The Ventures y Dick Dale.
Este es su tercer trabajo, grabado en 1995 y re editado en 1998 titulado "The Exciting Sounds of Model Road Racing", 13 tracks instrumentales de muy buena manufactura!.
The Phantom Surfers / The Exciting Sounds of Model Road Racing (1998 Lookout Records)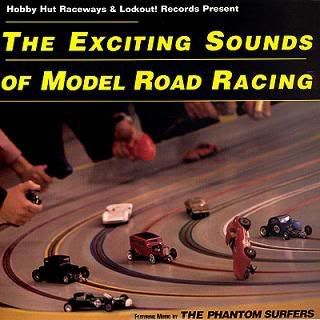 Tracklist.
1. Introduction
2. Everybody Up
3. Death of a Rookie
4. Schlock Slot
5. Slotter on 10th Avenue
6. Crossover Tragedy
7. Rheostat Rock
8. Pacific Shores
9. Slot Car Named Desire
10. Turn Marshal
11. Stumps of Mystery
12. Endurance Rally
13. Final Lap
Escúchalo!.
http://www.zshare.net/download/the-phantom-surfers-rar.html