Entrega No 92.
Más "Alternativo"?............
Otra de las buenas opciones auditivas que el fugaz paso de "El Huevo Alternativo" me dejo fué este sensacional album titulado "New Miserable Experience", que es la segunda placa de una banda norteamericana formada en 1987 en la localidad de Tempe Arizona,que terminaron su ciclo en 1996 y posteriormente volvieron en el 2002 para una segunda etapa, una muy buena agrupación conocida como
Gin Blossoms
.
A diferencia del sonido Grunge, semi-lento, distorsionado y ruidoso que la mayoría de las bandas hacían en esos años; Los Blossoms optaron por hacer un rock ligero, guitarras limpias o con una discreta distorsión, melodias dulces, mucha armonía y una voz que me parece muy agradable al oido. Un disco que realmente sigo disfrutando .............
Gin Blossoms / New Miserable Experience (1992 A&M Records)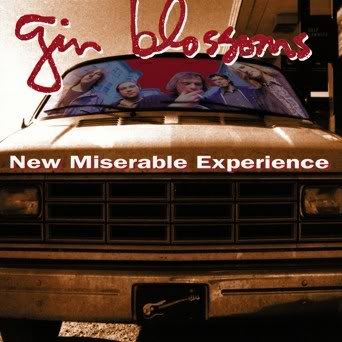 Tracklist.
1. Lost Horizons
2. Hey Jealousy
3. Mrs. Rita
4. Until I Fall Away
5. Hold Me Down
6. Cajun Song
7. Hands Are Tied
8. Found Out About You
9. Allison Road
10. 29
11. Pieces Of The Night
12. Cheatin'
Escúchalo!!.