Entrega No 88
De más horrores y mounstruos !!!!.
Dejo otro album de los míticos
Misfits
, este es su sexto album de estudio, que viene siendo su disco número 2 de la segunda etapa de esta genial agrupación. "Famous Monsters" es el título y es un gran trabajo de estos mounstrosos personajes de musculosos cuerpos.
Misfits / Famous Monsters (1999 Roaddrunner Records)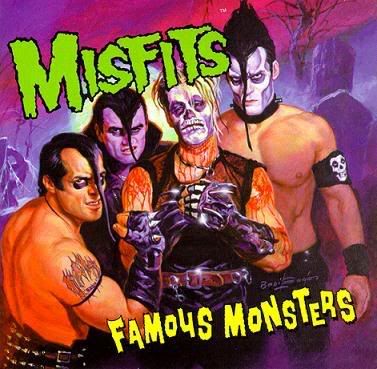 Tracklist.
1. Kong At The Gates
2. The Forbidden Zone
3. Lost In Space
4. Dust To Dust
5. Crawling Eye
6. Witch Hunt
7. Sream!
8. Saturday Night
9. Pumpkin Head
10. Scarecrow Man
11. Die Monster Die
12. Living Hell
13. Descending Angel
14. Them
15. Fiend Club
16. Hunting Humans
17. Helena
18. Kong Unleashed
Escúchalo!.