Entrega No 90.
De cañonazos clásicos......!!!!.
Y se trata de esta gran banda inglesa formada en 1976 en la ciudad de Londres, y que hasta estos días nos siguen deleitando con su música que ha pasado del ska, 2 tone, New Wave, Pop y que se ha consolidado como una de las más reconocidas agrupaciones de los 80's; ellos son
Madness
.
Este es un compilado de sus mejores temas desde 1979 a 1986 (los años de bonanza de la banda) titulado "Divine Madness", un sensacional trabajo que resume lo que sería su 1ra etapa, editado en 1992. Este album sirvió para dar banderazo a lo que es su 2da etapa que comprende de 1992 a la fecha.
Madness / Divine Madness (1992 Virgin Records)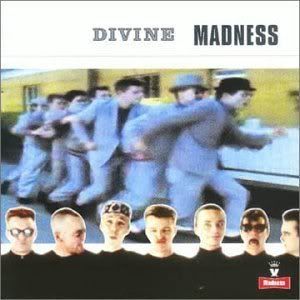 Tracklist.
1. Prince
2. One step beyond
3. My girl
4. Night boat to Cairo
5. Baggy trousers
6. Embarrassment
7. Return of the Los Palmas
8. Grey day
9. Shut up
10. It must be love
11. Cardiac arrest
12. House of fun
13. Driving in my car
14. Our house
15. Tomorrow's just another d
16. Wings of a dove
17. Sun and the rain
18. Michael Caine
19. One better day
20. Yesterday's men
21. Uncle Sam
22. Waiting for the ghost tra
Escúchalo!.