Entrega No 284.
De Horror Punk..................................
Un album recopilatorio de los oriundos de New Jersey
Misfits
. Y se trata de su album titulado "Misfits", aunque también se le conoce como "Collection I" y fué editado en 1986 por el sello Caroline Records, posteriormente el sello Plan 9 re-edito este material, incluye 20 grandes tracks de la 1ra etapa de la banda, con Glenn Danzig al mando, una buena introducción al terrorifico sonido de Los Misfits.....
Misfits / Misfits ( 1986 Plan 9 Records).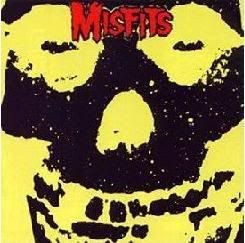 Tracklist.
1. She
2. Hollywood Babylon
3. Bullet
4. Horror Business
5. Teenagers From Mars
6. Night Of The Living Dead
7. Where Eagles Dare
8. Vampira
9. I Turned Into A Martian
10. Skulls
11. London Dungeon
12. Ghouls Night Out
13. Astro Zombies
14. Mommy Can I Go Out & Kill Tonight?
15. Die, Die My Darling
16. Earth A.D.
17. Devilock
18. Death Comes Ripping
19. Green Hell
20. Wolfs Blood