Entrega No 106.
Otro Pedido.......................
Y esta vez se trata de un cuarteto Canadiense formado en 1985, su nombre es
The Gruesomes
banda que gusta de realizar un Garage Rock N' Roll, salvaje, primitivo y guitarrero.
Este es el album debut de esta banda "Tyrants of Teen Trash", de 1986. Un LP para hacer las delicias de [Hoker] y algun otro cavernario que quiera entrarle!.
The Gruesomes / Tyrants of Teen Trash ( 1986 Og Music Records).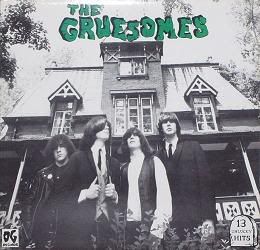 Tracklist.
01(Theme From) Bikers From Hell
02 Cry In the Night
03 I Never Loved Her
04 What's Your Problem?
05 The Witch
06 Gone For Good
07 Jack the Ripper
08 For All I Care
09 Bloodhound
10 Get Outta My Hair
11 Unchain My Heart
12 My Broken Heart Will Never Mend (Unless You Come Back With the Glue)
13 Dementia 13
14 Bonus Backward Devil Message & Reversal
Escuchalo!.
http://www.zshare.net/download/20198084d82d7d/