Entrega No 95.
Otros Surfers!!!!.
Pero ellos no ejecutan un sonido Surf, ellos son una muy buena banda formada en 1989 en Suecia, que se hacen llamar
Satanic Surfers
y son una representativa banda de Punk Rock del continente Europeo. Su sonido se puede clasificar dentro del denominado "Punk Melódico"(de tipo Lagwagon,NOFX o toda la camada de bandas Californianas), son muy buenos músicos, con buena técnica de ejecución instrumental individual y colectivamente tienen muchos recursos que plasman en sus temas, velocidad, riffs potentes de guitarra, destiempos, cortes entre canciones......en fín son una banda muy completa y de mucha calidad.
Este es su 5to album titulado "Going Nowhere Fast" que sale bajo el sello Burning Heart, pero también lo editó Epitaph. Contiene 14 tracks de muy buen punk-rock!!. Un poderoso album sin duda!

Satanic Surfers / Going Nowhere Fast (1999 Burning Heart Records)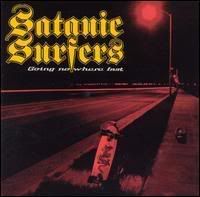 Tracklist.
1. Intro
2. Worn Out Words
3. Wishing You Were Here
4. What Ever
5. Blissfully Ignorant
6. The Ballad Of Gonzo Babbleshit
7. Out Of Touch
8. Discontent
9. Big Bad Wolf
10. Institutionalised Murder
11. That Song
12. Lean Onto You
13. Traditional Security
14. Outro (Sold My Soul For Rock 'N' Roll)
Escúchalo!.
http://www.zshare.net/download/satanic-surfers-going-nowhere-fast-rar.html