Una entrega a pedido!!!!!!.
Se trata de un par de discos de un duo originario de Dinamarca, integrado por Sune Rose Wagner en la guitarra y la voz, y una fémina de nombre Sharin Foo tocando el bajo y tambien en la voz; ellos son The Raveonettes.

En su sonido fusionan la esencia del rock& roll de los 50's y 60's con sintetizadores, programación de ritmos y efectos en la lira y el bajo que si bien no son tan novedosos, en aquellos años no se utilizaban. Tienen buenos temas que los han llevado a ser una agrupación bastante popular en un corto tiempo.

Dejo sus dos primeros trabajos, del 2002 "Whip It On" y de 2003 "Chaing Gang Of Love".


The Raveonettes / Whip It On (2002 Sony Music Records)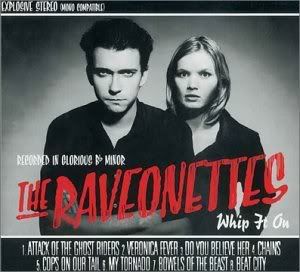 Tracklist.
1. Attack Of The Ghost Riders
2. Veronica Fever
3. Do You Believe Her
4. Chains
5. Cops On Our Tail
6. My Tornado
7. Bowels Of The Beast
8. Beat City
Escúchalo!.
http://www.zshare.net/download/whip-it-on-rar.html
The Raveonettes / The Chaing Gang of Love (2003 Sony Music Records)


Tracklist.
1. Remember
2. That Great Love Sound
3. Noisy Summer
4. The Love Gang
5. Let's Rave On
6. Dirty Eyes (Sex Don't Sell)
7. Love Can Destroy Everything
8. Heartbreak Stroll
9. Little Animal
10. Untamed Girls
11. Chain Gang Of Love
12. The Truth About Johnny
13. New York Was Great
Escúchalo!
http://www.zshare.net/download/chain-gang-of-love-rar.html