Entrega No 49.
Los Misfits japoneses!!!!!!.


Así los definió el buen Bob del blog hermano Chakas On Line, quien fué el que me solicito algo de esta banda originaria de Osaka Japón formada en 1992 que es otro representante destacado de la escena horror punk y que se hacen llamar
BALZAC.
Y es que realmente, esta banda tiene toda la escuela que dejaron los legendarios
Misfits,
tanto en imagen como en sonido, incluso, han alternado en el escenario, abriendo sus conciertos.
Así que para Bob y para el que le quiera entrar, dejo un album de estos engendros de mounstrosa apariencia, pero de mucha calidad musical, del 2005 "Out Of The Grave and Into The Dark".
BALZAC / Out Of The Grave And Into The Dark. (2005 Rykodisc Records).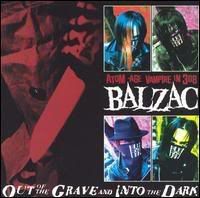 Tracklist.
1. The Grave-Dreizehn
2. Zetsubou-No-Ano-Basho-E
3. Season Of The Dead
4. Inside My Eyes
5. Shi-Wo-Yubi-Sasu
6. The Pain Is All Around
7. Came Out Of The Grave
8. Beyond Evil 308
9. Art Of Dying
10. The World Without End/The Pain Is Not Around (Reprise)
11. I'm Losing You
12. Beware Of Darkness (2004 Version)
13. I Know Listen
14. Gimme Some Truth
15. Beyond Evil 308 Pt. 1
16. D.A.R.K. Listen
17. Blood Inside '68
18. Beyond Evil 308 Pt. 2
19. Gyakusatsu-No-Mukougawa
20. XXXxxx
21. I Can't Stand It Anymore
22. Yami-No-Hikari-E
Escúchalo!
http://www.zshare.net/download/balzac-out-of-the-grave-and-into-the-dark-rar.html