Entrega No 51.No podía faltar........!!!!!!.
Un tributo a los grandiosos RAMONES, así que dejo uno que a mi gusto, es de los mejores logrados de la larga lista de discos que se han hecho en honor a los "Monchos". Corre a cargo de una agrupación originaria de Philadelphia, formada en 1997 que ejecuta un Rockabilly clásico de muy buena calidad.
Ellos son Full Blown Cherry, quienes en el 2005 hicieron este muy buen disco interpretando versiones de temas clásicos de RAMONES con el estílo particular del género, pero con unas adaptaciones geniales.
La verdad es muy bueno este disco!.
Full Blown Cherry / The Rockabilly Tribute To The Ramones (2005 Cmh Records).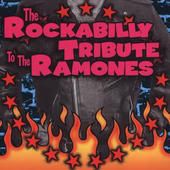 Tracklist.
1. Blitzkrieg Bop
2. Rockaway Beach
3. Sheena Is a Punk Rocker
4. Cretin Hop
5. She's the One
6. Judy Is a Punk
7. KKK Took My Baby Away
8. Teenage Lobotomy
9. I Wanna Be Sedated
10. Do You Remember Rock 'N' Roll Radio
11. Beat on the Brat
12. Bop 'Til You Drop
Escúchalo!
http://www.zshare.net/download/full-blown-cherry-the-rockabilly-tribute-to-the-ramones-rar.html