Entrega No 46.
Un Ska muy refreskante!!!.


En esta entrega, llega una banda española de la vieja guardia!, con el ritmo básico y típico que caracteríza este género, sencillo y sin complicaciones, letras divertidas y algo sarcasticas,
The Refrescos
, agrupación Madrileña legendaria dentro de la escena ska de fines de los 80's y la primera mitad de los 90's.
Durante su trayectoria,
The Refrescos
dejó un legado de muy buenos temas, la banda terminó su ciclo y un par de integrantes iniciaron otra aventura formando Los Petersellers.
Este disco es un recopilatorio de sus temas más destacados que encontré en algun puesto clandestino, pero contiene temas de sus discos "The Refrescos", "Kings of Chunda Chunda" y "Simpatía por el débil", es un buen disco que muestra quienes fueron
The Refrescos.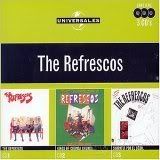 Tracklist.
1. Aquí no hay playa.
2. Iñaki.
3. Cortina.
4. Beber.
5. R.I.P.
6. Maripili (En el valle del ska).
7. La última.
8. Mentiras.
9. Colonias.
10. Me espías.
11. Supermán III.
12. En España.
13. Todo - Nada.
14. Te quiero.
15. Saca.
16. Smoke On The Conde ( I.P.C).
17. Yo.
18. Ana.
19. El Coche.
20. Contagiado por amor.
21. Sospechas.
Escúchalo!.