Entrega No 52.
Siguiendo con lo Ramonero!!!!!.
Dejo este sensacional album de una banda que fué creada para rendir un homenaje a dos grandes de la música;
RAMONES
(legendarios del punk rock) y
The Ventures
(legendarios del surf). A esta fusión de estílos, le nombraron
RAMONETURES
.
RAMONETURES
, esta integrado por Billy Zoom (Guitarra, flauta y saxofón), D.J Bonebrake (batería), Mark Neill (guitarra), Chris Barfield (bajo) y Mel Bergman (guitarra); este último guitarrista de The Phantom Surfers.
En este, su primer album, ejecutan temas de
RAMONES
de manera instrumental transformadas al sonido surf estílo de
The Ventures
; La parte vocal de
Joey Ramone
en las canciones, es suplida por el requinto guitarrero característico del surf y solo respetan vocalmente algunas frases que serían imposibles de reemplazar como el grito de guerra
"Hey Ho
Let´s Go!"
del clásico
Blitzkrieg Bop
.
Sin duda es otro de los discos tributos mejores logrados y además es una grata manera de reinventar el legado Ramonero!!!
RAMONETURES /RAMONETURES (2000 Munster Records ed. Española)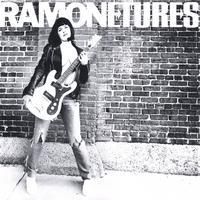 Tracklist.
1. Glad to See You Go
2. Rockaway Beach
3. Blitzkrieg Bop
4. She's the One
5. Babysitter
6. Rock & Roll High School
7. She's a Sensation
8. Today Your Love, Tomorrow the World
9. Do You Remember Rock & Roll Radio?
10. I Wanna Be Well
11. Carbona Not Glue
12. KKK Took My Baby Away
13. Cretin Hop
14. Oh, Oh, I Love Her So
15. I Wanna Be Sedated
16. Pet Sematary
Escúchalo!.
http://www.rogepost.com/n/2282233827