Entrega No 56.
De ese buen punk rock!!!!!!.

Originarios de San Francisco California y formados en 1983. Con algunos cambios de su primer alineación, básicamente en batería y segunda guitarra.
NOFX
es una de la bandas más reconocidas y emblemáticas de la escena punk rock y la banda más aventajada del sonido "californiano", fundando una escuela que muchas agrupaciones nuevas han seguido.
Su sonido, un punk rock de buena velocidad, con una gran variedad de recursos musicales; (cambios de ritmo, destiempos, buenos riffs de guitarras bien acopladas que se complementan muy bien, un bajo poderoso, muy buenos arreglos), una buena técnica de ejecución instrumental, fusiones de ritmos que van desde el punk, ska, reggae, hardcore; letras divertidas, sarcásticas y críticas (sociales, políticas, anti racistas , religiosas); una voz principal y detras, adornando, unos coros muy melódicos.
El album Ribbed de 1991 (el tercero de su discografía) quiza no sea el más exitoso, pero fué el primero grabado con la alineación que hasta la fecha se conserva, y con la que
NOFX
ha tenído sus mejores momentos, en este disco graba ya "El Hefe", guitarrista que sin duda fué un complemento pérfecto al sonido que ya pretendían Mike Fat (bajo y voz), Eric Melvin (guitarra), Eric Sandin (batería). Ribbed me parece un disco muy completo con el que la banda comenzó a experimentar su sonido que a la postre los identificaría, un sonido que en cada disco que graban se perfeciona.
NOFX / Ribbed ( 1991 Epitaph Records).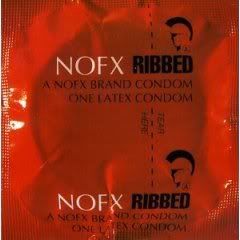 Tracklist.
1. Green Corn
2. The Moron Brothers
3. Showerdays
4. Food, Sex & Ewe
5. Just The Flu
6. El Lay
7. New Boobs
8. Cheese / Where's My Slice
9. Together On The Sand
10. Nowhere
11. Brain Constipation
12. Gonoherpasyphlaids
13. I Don't Want You Around
14. The Malachi Crunch
Escúchalo!
http://www.zshare.net/download/nofx-rar.html