Entrega No 57.
Más Punk Rock del bueno!!!!!.
Originarios de Berkeley California, en 1991, Tim Armstrong y Matt Freeman, deciden formar una banda tras la desintegración de
Operation Ivy
(legendaria banda de ska punk que no soportó la popularidad que se generó en torno a ellos). A esta nueva banda, se integran en la batería Brett Reed y Billie Joe Armstrong (Green Day) de segunda guitarra. Graban un primer disco titulado
RANCID
, titulo homónimo de la banda. Después Billie Joe, deja la banda para concentrarse en Green Day, y llega el guitarrista de UK Subs, Lars Frederiksen a cubrir ese lugar. A partir de entonces, comienza la historia de una de las agrupaciones más representativas del género punk rock.
Este es el tercer disco de
Rancid
, titulado ...And Out Come The Wolves, es el más exitoso album de la banda que los lanzó a la popularidad, ya que tuvo gran aceptación para los que gustamos de escuchar este género y también los que no estan tan familiarizados con el, incluso videos de canciones de este disco fueron transmitidos por el "canal de videos mtv" e hicieron presentaciones en televisión logrando que más gente conociera su música. Un disco muy bien logrado, con un sonido sólido y de muy buenas tablas, además de una pulcra ejecución de los instrumentos, canciones de gran calidad, muy variado, es un disco que se ha convertido en un clasico del genero, es una joya!.
Rancid /
...And Out Come The Wolves (1995 Epitaph Records).
Tracklist.
1. Maxwell Murder
2. The 11th Hour
3. Roots Radicals
4. Time Bomb
5. Olympia WA.
6. Lock, Step, & Gone
7. Junkie Man Listen
8. Listed M. I. A.
9. Ruby Soho Listen
10. Daly City Train
11. Journey To The End Of The East Bay
12. She's Automatic
13. Old Friend Listen
14. Disorder and Disarray
15. The Wars End Listen
16. You Don't Care Nothin'
17. As Wicked Listen
18. Avenues and Alleyways
19. The Way I Feel
Escúchalo!.
http://www.zshare.net/download/rancid-and-out-come-the-wolves-rar.html
Y ya encarrerado, dejo también su quinto disco, este salió en el 2000 y se tituló nuevamente Rancid, en este album, dan un giro radical a su sonido, tal vez un poco cansados de la comercialización en la que estaban inmiscuídos, o quizas intentando demostrar que eran una banda consolidada que no necesitaban demostrar nada, volvieron a las raízes y nos entregaron este brutal disco, donde todos los temas (muy potentes de grán velocidad y corta duración), van entrelazados y da la sensación de que la canción aún no termina. En este disco,
RANCID
confirma su calidad musical, buenas guitarras, batería solida, voces crudas y el bajo siempre tremendo del maestro Matt Freeman (sin duda de los mejores bajistas) que es la base musical y lo más destacado del sonido Rancid. Un gran disco que nos confirmó que "the punk never die!"
Rancid / Rancid (2000 Hellcat Records).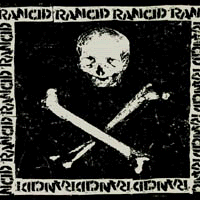 Tracklist.
1. Don Giovanni
2. Disgruntled Listen
3. It's Quite Alright
4. Let Me Go Listen
5. I Am Forever
6. Poison
7. Loki
8. Blackhawk Down
9. Rwanda
10. Corruption
11. Antennas
12. Rattlesnake
13. Not To Regret
14. Radio Havana
15. Axiom Listen
16. Black Derby Jacket
17. Meteor Of War
18. Dead Bodies
19. Rigged On A Fix
20. Young Al Capone
21. Reconciliation
22. GGF
Escúchalo!
http://www.zshare.net/download/rancid-2000-rar.html