Entrega No 59.
Un poderoso Ska-Punk-Core!!!!!.
Esta vez se trata del séptimo album de una muy buena banda de la bahia de San Francisco California que vió la luz por ahí de 1994; se hacen llamar
Link 80
y es otra banda que representa el movimiento Ska-Punk o Ska-Core Californiano. Su sonido es bastante vertiginoso; grán velocidad en la batería y mucha distorsión en las guitarras, complementado con una poderosa sección de metales y la voz agresiva que hacen de su musica un ska,punk,hardcore de muy buena calidad.
Este disco se titula The Struggle Continues y creo que es de lo mejor que nos entregó Link 80, contiene 14 buenos tracks entre los que destaca la versión de la canción "My Girl" original de los legendarios Madness, canción que esta fondeando en estos momentos este sitio, aunque todo el disco es bastante bueno!!.
Link 80 / The Struggle Continues (2000 Asia Man Records).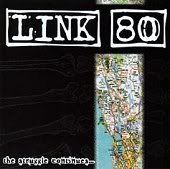 Tracklist.
1. Addiction
2. Evil Twin
3. Right Hook
4. Intolerance
5. Nothing New
6. Resist In G Minor
7. Step Up
8. Face Down
9. My Girl
10. Past Tense
11. Time For A Change
12. Tengo Nada
13. Peril After Peril
14. Unbroken
Escúchalo!.
http://www.zshare.net/download/link-80-the-struggle-continues-_-rar.html