Entrega No 60.
De los infaltables!!!.
Se trata de otra de las grandes bandas que ha brindado la historia musical, Surgidos en 1985 en Boston Massachusetts, Francis Black, Joey Santiago, Dave Lovering y Kim Deal conforman la alineación de los geniales
Pixies.
Con tan solo cinco discos de estudio, una trayectoria algo accidentada,
Pixies
es una de las agrupaciones consagradas y uno de los máximos referentes de la música independiente. Dejando de lado cualquier tipo de "virtuosismo", su sonido simpre ha sido sencillo, pero de gran calidad, fuertes distorsiones en las guitarras junto a la voz desgarradora de Frank Black, complementando a una base instrumental de una buena batería y un bajo bien ejecutado. Melodías que pueden llegar a ser balada rock muy distorsionada y emotiva hasta un sonido punk realmente bien logrado, esa combinación de matizes, creatividad e improvisación, es lo que ha llevado a
Pixies
a ser esa grandiosa banda que ha hecho la delicias auditivas de millones de personas al rededor del mundo.
Dejo un album recopilatorio con el en 1997 dieron oficialmente fin a su existencia, aunque posteriormente regresarón del descanso eterno y han venido realizando varias presentaciones, nos han obsequiado un par de temas ineditos y actualmente estan en activo (y ojalá sea por mucho tiempo).
Death To The Pixies 1987-1991 (1997 Elektra Wea Records).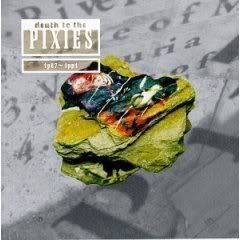 Tracklist CD.1
1. Cecilia Ann
2. Planet Of Sound
3. Tame
4. Here Comes Your Man
5. Debaser
6. Wave Of Mutilation
7. Dig For Fire
8. Caribou
9. Holiday Song
10. Nimrod's Son
11. U-Mass
12. Baone Machine
13. Gigantic
14. Where Is My Mind ?
15. Velouria
16. Gouge Away
17. Monkey Gone To Heaven
Escúchalo!
http://www.zshare.net/download/death-to-the-pixies-rar.html
Tracklist CD2.
1. Debaser
2. Rock Music
3. Broken Face
4. Isla De Encanta
5. Hangwire
6. Dead
7. Into The White
8. Monkey Gone To Heaven
9. Gouge Away
10. Here Comes Your Man
11. Allison
12. Hey
13. Gigantic
14. Crackity jones
15. Something Against You
16. Tame Listen
17. Wave of Mutilation
18. Where Is My Mind ?
19. Ed Is Deaaad
20. Vamos
21. Tony's Theme
Escúchalo!
http://www.zshare.net/download/death-to-the-pixies-live-rar.html