Entrega No 45.
Más ska punk asiatico!!!!


Para esta entrega, traigo a una banda japonesa que gusta de ejecutar un ska/punk, con algunos tintes de reggae, de mucha calidad. Su nombre es Kemuri, banda formada en 1995 y actualmente sigue activa y deleitandonos con su ritmo vertiginoso, muy potente y de muy buena manufactura, que combina letras en ingles y en japones, son muy buenos!
Aquí dejo un video de la canción New Generation (track con la que abre el disco de esta entrega), para dar una muestra de lo bien que suena esta banda.



Este es su primer album, titulado "Little Playmate", un muy buen disco que no hay que perderse!.
Kemuri / Little Playmate (1997 Road Runner Records)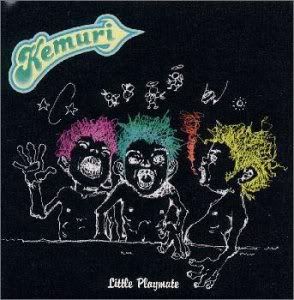 Tracklist.
1. New Generation
2. Knockin' On The Door
3. Prayer
4. Workin' Dayz
5. Rainy Saturday
6. Circle Of Life
7. Sun Set
8. Live Up To Ya Rights
9. Don't Know
10. Ato-Ichinen
11. Mercy 12. Givin' Up
13. Yellow Survivors
14. On The Street
Escúchalo!.
http://www.zshare.net/download/kemuri-rar.html