Entrega No 153.
Ska-Punk Asiático..........
Con esta muy buena banda formada en 1989 en San Francisco California lidereados por el músico Coreano-Americano Mike Park en la voz y el saxofón,
Skankin' Pickle
fué una banda representativa del movimiento Ska-Punk anti-racista, una alineación que constaba de seis integrantes ejecutando un muy buen sonido, de muy buena velocidad y una sección de metales adornando perfectamente cada tema e incorporando a su estílo una gama de ritmos que van desde el ska y punk básico, pasando por el hip-hop, polka, reggae, funk, etc.
Su aventura musical duró hasta 1996 en los cuales hicieron de las suyas editando 6 albums, 2 de ellos en vivo. Este es su tercer placa, de 1994 "Sing Along With Skankin' Pickle", album buenísimo, con 16 tracks de muy buenas hechuras.
Skankin' Pickle / Sing Along With Skankin' Pickle ( 1994 Dill Records)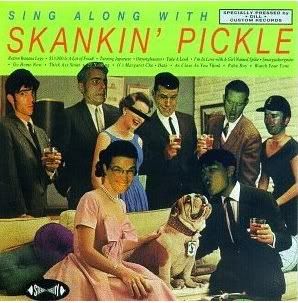 Tracklist.
1. Rotten Banana Legs
2. $13,000 Is A Lot Of Food!
3. Turning Japanese
4. Onyonghasayo
5. Take A Look
6. I'm In Love With A Girl Named Spike
7. Smorgasborgnine
8. Go Home Now
9. Thick Ass Stout
10. 20 Nothing
11. It's Margaret Cho
12. Hate
13. As Close As You Think
14. Pabu Boy
15. Watch Your Tone
16. Bonus Track