Entrega No 148.
De Horror Surf.......
Con una banda norteamericana formada en 1994 en Boston Massachusetts, ejecutan un Surf Instrumental con ambiente horrorifico de bastante buenas hechuras, ellos son los desaparecidos
13 Ghosts
.
Este es un album tributo que los 13 Ghosts realizaron en el 2000 en honor a una de sus máximas influencias;
Misfits
titulado "13 Crimson Ghosts", un muy buen album tributo de temas destacados interpretados al estílo Surf y lógicamente de manera instrumental. Retoman la portada de el "Walk Among Us" cambiando los personajes que ahí aparecen.
13 Ghosts /13 Crimson Ghosts Tribute To The Misfits
(2000)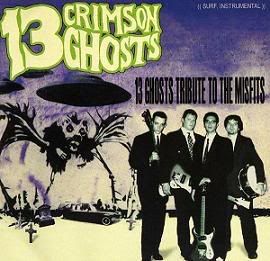 Tracklist.
01 Halloween
02 Where Eagles Dare
03 London Dungeon
04 Some Kinda Hate
05 20 Eyes
06 Angelfuck
07 Hollywood Babylon
08 Attitude
09 Ghouls Night
10 Horror Business
11 Return of the Fly
12 Skulls
13 Astro Zombies
14 Spook City U.S.A.