Entrega No 135.
Algo de Punk Rock.......
Con esta buena banda originaria de Hortlax, Suecia formada en 1992, forman parte de la escena Punk Europea, aunque también en America gozan de aceptación gracias a los sellos Fat Wreck Chords y Epitaph Records que han incluido algunos de sus temas dentro de sus recopilaciones, ellos son
Randy
.
Buen sonido, potente y bien ejecutado, nada virtuoso pero muy solido y contenido social en sus letras es básicamente lo que este cuarteto nos ofrece.
Este es su 4to album editado en el 2001 "The Human Atom Bombs", 17 tracks contiene este buen trabajo.
Randy / The Human Atom Bombs (2001 Burning Heart Records)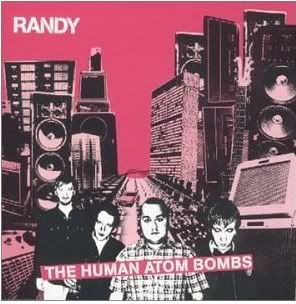 Tracklist.
1. Addicts Of Communication
2. Punk Rock City
3. Keeping Us Out Of Money
4. Karl Marx And History
5. Summer Of Bros
6. I Don't Need Love
7. If We Unite
8. Proletarian Hop
9. Shape Up
10. Rockin' Pneumonia And the Punk Rock Flu
11. Freedom Song
12. Whos Side Are You On?
13. Chicken Shack
14. Win Or Lose
15. the Human Atom Bomb
16. I Believe In The Company
17. The Heebie Jeebies (Dial 911)