Entrega No 152.
De Garage - Punk sucio !!!.
Ahora va algo de
The Mummies
, banda Californiana con un breve periodo de existencia (1988-1992) cuatro años en los que esta banda logró una buena aceptación dentro de la escena que revive el sonido Garage Punk. Tres mounstrosos personajes haciendo sonar sus instrumentos ejecutandos su sonido sucio, primitivo, estridente de muy buena manufactura.
Esto es lo último editado de esta agrupación, se trata de un album que recopila temas de su discografía que consiste en 5 albums grabados en formato. En el 2003 el sello Estrus Records edita el "Death By Unga Bunga" para recordar a esta buena banda.
The Mummies / Death By. Unga Bunga!! ( 2003 Estrus Records)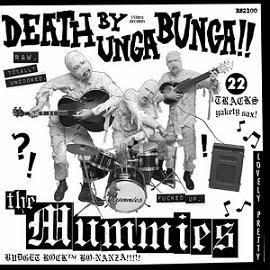 Tracklist.
1. Introduction To The Mummies
2. In & Out
3. A Girl Like You
4. I'm Gonna Kill My Baby Tonight
5. I'm Bigger Than You
6. (I Should Better Be Lookin' For) Dangerman
7. Die!
8. That Girl
9. Test Drive
10. Stronger Than Dirt
11. Food, Sickles & Girls
12. Your Love
13. Down Home Girl
14. (Doin') The Kirk
15. Babba Diddy Baby
16. That's Mighty Childish
17. Just One More Dance
18. The House On The Hill
19. (You Must Fight To Live) On The Planet Of The Apes
20. One By One
21. Zip A Dee Doo Dah