p
Entrega No 146.
Punk HC Callejero......
Esta vez va algo de el estílo Street Punk con esta poderosa banda originaria de New Jersey formada en 1990, ellos son
The Casualties
, agrupación con raíces latinas, de sonido trepidante, mucha distorsión acompañando a una desgarradora voz que interpreta temas con alto contenido social y político, denuncia y protesta bajo un agresivo "ruido".
Este es su tercer album "Stay Out of Order", 12 buenos tracks con una fuerte descarga de adrenalína.
The Casualties / Stay Out of Order ( 2001 Punkcore Records)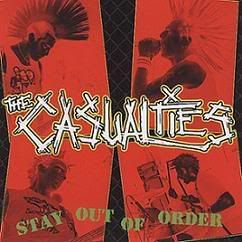 Tracklist.
1. No Way Out
2. Proud To Be Punk
3. Street Punk
4. Fight For Your Life
5. Time To Think
6. Violence
7. Same Fucking Song
8. Just Another Lie
9. Authority Is Dead
10. Preachers
11. Way Of Life
12. Society's Fodder