Entrega No 151.
Algo de lo solicitado en este Siniestro sitio.....
Se trata de una banda a veces cuarteto, a veces trío formado en 1991 en la localidad de Victorville en California disueltos en el 2003, una muy buena banda representante de la escena Punk Rock Norteamericana, ellos son
Face To Face
, un sonido sencillo pero muy macizo y bastante bien logrado a lo largo de sus 12 años de existencia que los llevaron a ser una banda reconocida y de respeto.
Este es su album debut, editado en 1992 bajo el discreto sello Dr. Strange Records, un muy buen disco que les valió entrar al famosos sello Fat Wreck Chords y reeditar el album en 1993. incluye 13 grandes tracks algunos de lo más destacado de esta agrupación.
Face To Face / Don't Turn Away ( 1993 Fat Wreck Chords)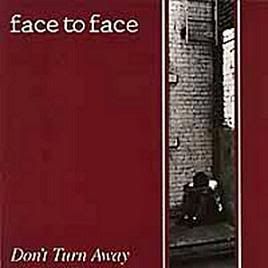 Tracklist.
1. You've Done Nothing
2. I'm Not Afraid
3. Disconnected
4. No Authority
5. I Want
6. You've Got A Problem
7. Everything Is Everything
8. I'm Trying
9. Pastel
10. Nothing New
11. Walk Away
12. Do You Care?
13. 1,000 X