Entrega No 136.
Punk / HardCore !!!!.
Un vertiginoso sonido, de gran velocidad cargado de energía y rabia combinado con una buena ejecución instrumental que se ha ido perfeccionando, letras de denuncia e inconformidad cantadas en ingles y en español es lo que esta muy buena banda California de la ciudad de Los Angeles nos presenta.
Ellos son
Union 13
formados en 1992, un cuarteto de raíces latinas, que en sus inicios se presentaban para un público local, y posteriormente el sello Epitaph se encarga de dar a conocer su musica apadrinados por Tim Armstrong y Lars Frederiksen (Rancid), con el tiempo y por la honestidad en su música han ganado aceptación y credibilidad en la escena.
Este es su 3er album, editado en el 2001 por el sello Epitaph "Youth Betrayal and the Awakening".
Union 13 / Youth, Betrayal and the Awakening ( 2000 Epitaph Records)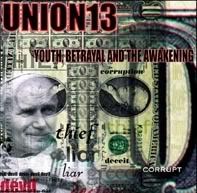 Tracklist.
1. Intro
2. The Game (We Don't Have To Play)
3. Beyond The System
4. A Short Supply (Of Truth)
5. Youth, Betrayal And The Awakening
6. Buscando La Verdad
7. For Someone
8. To Understand
9. Ilusion, Violencia Y Maldad
10. Innocence
11. Try
12. Soledad
13. Finding Out
14. Mundo Egoista
15. Malice
16. Continue
17. Life, Death, Matter