Entrega No 127.

En la misma línea ......
Va algo de
The Forces Of Evil
, agrupación originaria de Orange Country California formada en el 2001 y es un proyecto alterno fundado por Aaron Barrett, voz y guitarra de Reel Big Fish, todo surge con la idea de crear una "Super Banda de Ska", incorpora a la banda a su amigo y compañero en RBF Scott Klopfenstein (trompeta) y algunos buenos músicos más que ya habían sido parte de RBF y algunos otros de otras bandas de la misma localidad.
Dos años depués de su formación,
The Forces of Evi
l editan su album debut titulado "Friend or Foe?", un muy buen disco con 11 tracks de calidad de esta "super banda de ska".
The Forces Of Evil / Friend or Foe? (2003 Mojo Jive Records)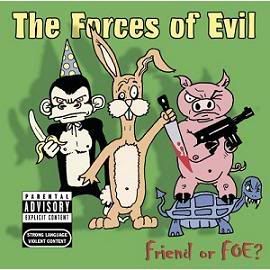 Tracklist.
1. Angry Anthem
2. Go to Hell
3. My Life
4. Dance the Night Away
5. Vauge Love song
6. Hey! Woo! Yea!
7. Mistake
8. Worst Day
9. Maybe I'm Wrong
10. Independent
11. Fight