Entrega No 111.
Garage, Rock N' Roll.......
Es el estílo que ejecutan estos 6 personajes originarios de Viena Austria que desde el año 2002 decidieron formar una agrupación cargados con la influencia del sonido de los 50's y 60's su nombre:
The Staggers
. Son una banda relativamente nobel, pero sin duda con calidad y buenas tablas.
Este es su primer album oficial, anteriormente habían grabado tres EP's antes de su "Teenage Trash Insanity" que por cierto es un muy buen trabajo.
The Staggers / Teenage Trash Insanity ( 2006 Wohnzimmer Records)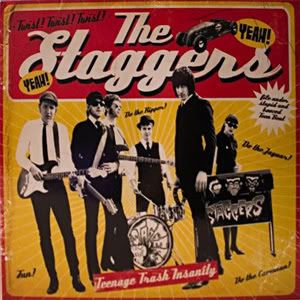 Tracklist.
01. The Jaguar
02. Be My Queen
03. Little Boy Blue
04. Eagles Surf
05. Little Girl
06. Out Of My Mind
07. Do The Ripper
08. Come On!!!
09. Black Hearse Caddilac
10. Let's Stomp!
11. Without You
12. Wild Teens
13. I Am The Wolfman
Escúchalo!.