Entrega No 116.
Que cañonazos!!!!????
Ahora va algo de una de las bandas consagradas en la historia musical, un cuarteto que gusta de mostrar sus "cuerpos de gimnasio" decorados con tatuajes y que desde 1983 a la fecha han venido demostrando su calidad con su sonido Rock-Funk-Rap cargado de improvisación y buena técnica de ejecución instrumental. Ellos son los Californianos
Red Hot Chili Peppers
.
Este es un album recopilatorio de sus mejores temas hasta 1992, lo componen tracks desde su primer album (homónimo), hasta su quinta producción la cual los catapultó a la popularidad , el clásico "Blood Sugar Sex Magik", tras la salida de este disco, RHCP cobró factura y siendo ya una banda exitosa, realizó este compilado para mostrar a quienes comenzaban a escucharlos lo que realizaban 9 años atrás e irónicamente nombraron a este disco "What Hits!?"
Red Hot Chili Peppers / What Hits!? (1992 Capitol Records).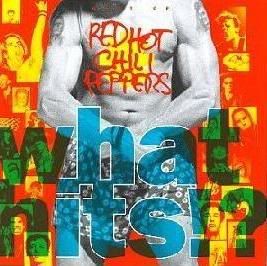 Tracklist.
1. Higher Ground
2. Fight like A Brave
3. Behind The Sun
4. Me & My Friends
5. Backwoods
6. True Men Don't Kill Coyotes
7. Fire
8. Get Up And Jump
9. Knock Me Down
10. Under The Bridge
11. Show Me Your Soul
12. If You Want Me To Stay
13. Hollywood
14. Jungle Man
15. The Brothers Cup
16. Taste The Pain
17. Catholic School Girls Rule
18. Johnny Kick A Hole In The Sky
Escúchalo!