Entrega No 118.
Cañonazos de Stray Cats......
No sabía muy bien que disco de
Stray Cats
escoger para hacer una entrega, así que me voy por la fácil y dejo uno de los tantos album recopilatorios que existen, en este me parece que el tracklist seleccionado es bastante bueno y contiene grandes temas de esta genial agrupación, puro Rockabilly!!.
Stray Cats / The Best Of Stray Cats (2004 Paradiso Records)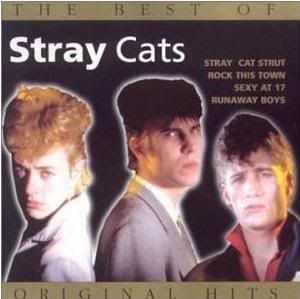 Tracklist.
1. Stray Cat Strut
2. Rock This Town
3. Rebels Rule
4. Built for Speed
5. Little Miss Prissy
6. Too Hip Gotta Go
7. My One Desire
8. I Won't Stand in Your Way
9. C'mon Everybody [Live]
10. Fishnet Stockings
11. Ruanaway Boys
12. (She's) Sexy and 17
13. Baby Blue Eyes
14. Jeannie, Jeannie, Jeannie
15. You Don't Believe Me
16. Ubangi Stomp
17. Double Talkin' Baby
18. Storm the Embassy
19. Rumble in Brighton
20. Gonna Ball
Escúchalo!.