Entrega No 123.
Más punk fémino......!!!
Y ahora de trata de una agrupación norteamericana representante de la escena de New York de finales de los 70's y comiezos de los 80's. Se formaron en 1977 y gustaban de ejecutar un punk primitivo y bizarro posteriormente mezclados con el Heavy Metal (estílo conocido como Crossover Punk), lidereados por una rubia fémina de salvaje apariencia y pederosa voz, dinamita pura en el escenario destruyendo intrumentos, prendiendo fuego a autos, dejando entre ver un estético cuerpo en semi desnudos que le hacian recordar su pasado como actríz porno, esa rubia de cabello a la moicana, que en solitario incursiono en el Heavy de nombre Wendy O Williams, la banda...............
Plasmatics
.
Esta es una re edición de su album debut "New Hope for the Wretched" que originalmente salió en 1980, su primer album posterior a seis sencillos, en este disco se añaden 4 tracks más a la versión original y son los temas en vivo, sale en 1998 año en el que Wendy O Williams muere.

Plasmatics / New Hope for the Wretched ( Reedición 1998 Repertiore Records)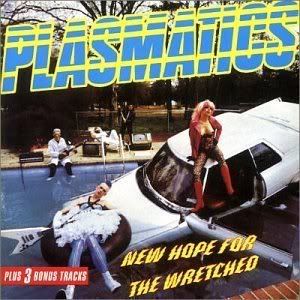 Tracklist.
1. Tight Black Pants
2. Monkey Suit
3. Living Dead
4. Test Tube Babies
5. Won't You
6. Concrete Shoes
7. Squirm (live)
8. Want You Baby
9. Dreamlover
10. Sometimes I
11. Corruption
12. Butcher Baby
13. Tight Black Pants (live)
14. Living Dead (live)
15. Sometimes I (live)