Entrega No 65
Desde San Diego California.....


Llega esta muy buena agrupación, que desde 1991 ha incursionado en la música ejecutando un ska-punk con alguno tintes de reggae bastante ligerito y muy puesto para mover el esqueleto con un buen baile!.
Su nombre es
Buck-O-Nine
y son una banda de muy buen nivel, con un sonido muy agradable, con una buena base instrumental, una destacada sección de metales; buen ritmo en todos sus temas y la fusión de sonidos que manejan esta muy bien lograda, seguro que pasas un buen rato escuchandolos!.
Este es su tercer trabajo, de 1997 Twenty-Eight Teeth, un muy buen disco de principio a fín, bastante entretenido, divertido y lleno de matízes, es de lo mejor que esta banda nos ha obsequiado.
Buck-O-Nine / Twenty-Eight Teeth (1997 TVT Records).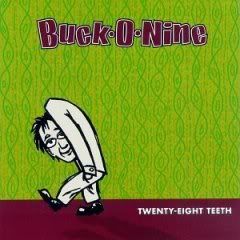 Tracklist.
1. Round Kid
2. Nineteen
3. Albequerque
4. Tear Jerky
5. I'm The Man
6. Jennifer's Cold
7. Steve Was Dead
8. What Happened To My Radio?
9. Twenty-Eight Teeth
10. You Go You're Gone
11. Peach Fish
12. Record Store
13. My Town
14. Little Pain Inside
Escúchalo!.
http://www.zshare.net/download/buck-o-nine-rar.htm