Entrega No 61.
En esta ocasión, dejo un album de una banda consentida en este sitio, ellos son
Less Than Jake
, esa buena banda de la Florida que ejecuta un ska-punk de muy buenas tablas.
Este es su quinto trabajo discográfico; de 1998 Hello Rockview, y dicho sea de paso, un disco muy bueno!

Less Than Jake / Hello Rockview (1998 Capitol Records)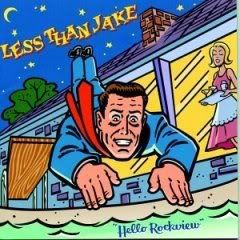 Tracklist.
1. Last One Out Of Liberty City
2. Help Save The Youth Of America From Exploding
3. All My Best Friends Are Metalheads
4. Five State Drive
5. Nervous In The Alley
6. Motto
7. History Of A Boring Town
8. Great American Sharpshooter
9. Danny Says
10. Big Crash
11. Theme Song For H Street
12. Richard Allen George...No, It's Just Cheez
13. Scott Farcas Takes It On The Chin
14. Al's War
Escúchalo!.
http://www.zshare.net/download/less-than-jake-rar.html