Entrega No 63.
Ramonero, con aroma femenino!.
El titulo tiene que ver con una banda que surgió en una secundaria (high school) en la localidad de Palo Alto, California en 1993. Cuatro amigas deciden adentrarse en una aventura musical y forman una agrupación netamente femenína. Después de cambiar varias veces de nombre para la banda, decide llamarse finalmente
The Donnas
.
The Donnas
es una banda que poco a poco ha logrado encontrar su sonido propio, En un principio tienen una marcada influencia Ramonera, en su sonido, en su imagen y hasta en sus nombres, anteriormente cada integrante se ponía el sobrenombre Donna seguido de la primera letra de su apellído (muy ramonero). Al paso del tiempo, cambiaron su sonido y en su trabajos recientes, se nota mucho el sonido "heavy" en sus canciones. Son muy bonitas, rockean muy duro, y saben muy bien como hacer sonar sus instrumentos (mencion honorífica a la guitarrista Allison Robertson por esos riffs y solos de grán calidad). Me gusta mucho la combinación de belleza femenína y buen rock & roll que
The Donnas
no ofrece!. Son un "oasis" entre la gran cantidad de testosterona rocker.
Aqui dejo su primer material y homónimo de la banda, donde se refleja claramente la tendencia ramonera de estas chicas, posteriormente dejaré más discos de la banda para apreciar la evolución y madurez musical que han tenido estas féminas, consentidisimas del actor intelectual y material de este sitio.
The Donnas / The Donnas (1997 Superteem! Records, reedición en 1998 Lookout Records)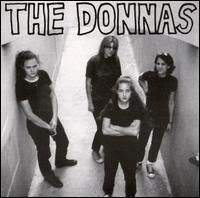 Tracklist.
1. Hey, I'm Gonna Be Your Girl
2. Let's Go Mano!
3. Teenage Runaway
4. Lana & Stevie
5. I'm Gonna Make Him Mine (Tonight)
6. Huff All Night
7. I Don't Wanna Go
8. We Don't Go
9. Friday Fun
10. Everybody's Smoking Cheeba
11. Get Rid Of That Girl
12. Drive In
13. Do You Wanna Go Out With Me
14. Rock 'N' Roll Boy
15. High School Yum Yum
16. Boy Like You
17. Let's Rab
18. Let's Go Mano
19. Last Chance Dance
20. I Wanna Be A Unabomber
21. Da Doo Ron Ron
22. I Don't Want To Go To School
23. I Don't Wanna Rock 'N' Roll Tonight
Esúchalo!.
http://www.zshare.net/download/the-donnas-1998-the-donnas-rar.html