Entrega No 66.Y Bailaré Sobre Tu Tumba........!!!!!!.
Una de mis frases favoritas, que es un tema que da nombre al 4to disco de una de las grandes bandas españolas, los siempre punzantes e irreverentes Siniestro Total, agrupación surgida en la localidad de Vigo que desde 1981 y hasta la fecha han hecho gozar a mucha gente con su sonido entre punk, rock clásico con algunos tintes a otra cosa, y sobre todo con sus letras siempre divertidas, sarcásticas y cargadas de un humor un tanto filoso y grotesco. Mucho se puede decir acerca de esta legendaria banda, sin embargo, lo mejor es disfrutar de su música (en un principo marcadamente ramonera), pero siempre imprimiendo su sello característico. Así que no queda más que escuchar a los Tocayos!
Siniestro Total / Bailaré Sobre Tu Tumba ( 1985 DRO Records)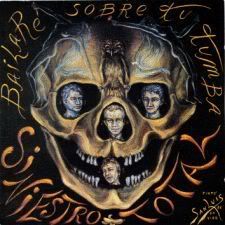 1. Temas.
2. Vámonos al Kwai
3. ¿Qué tal homosexual?
4. Kalahari
5. Al final Demasiado lejos
6. Rock en Samil (Rockaway beach)
7. Bailaré sobre tu tumba
8. Will Power Can't get enough
9. Hey, hey, Vigo
10. Hoy voy a asesinarte (The life and soul of the party)
11. Ye-ye (Ye-ye)
12. Viene el verano (Here comes the summer)
13. Emilio Cao (David Watts)
14. Sexo chungo
15. No me lavo en la vida (In-a-gadda-da-vida)
16. Cada día somos más
17. No me mates con tomate
18. We are the world
Escúchalo!.
http://www.zshare.net/download/siniestro-total-bailare-sobre-tu-tumba-rar.html