Entrega No 71.
Dos en Uno de los Calámbres!!!.
Esta vez se trata de una reedición de un par de discos de los legendarios
The Cramps
; su primer album que en realidad salió como un EP, de 1979 titulado "Gravest Hits" y su tercer trabajo de 1981, el mítico "Psychodelic Jungle". la disquera decidió unir ambas grabaciones en un solo disco. Dos auténticas joyas clásicas del sonido garage, punk, surf, psychobilly. Dos grandes discos de los sensacionales "Calambres".
Los tracks del 1 al 14 pertenecen al Psychodelic Jungle y del 15 al 19 son los que incluye el Gravest Hits.
The Cramps / Psychedelic Jungle - Gravest Hits (1989 Fontana Records)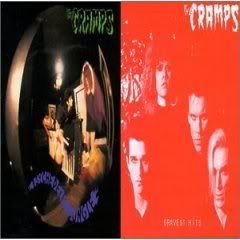 Tracklist.
1. Green Fuz
2. Goo Goo Muck
3. Rockin' Bones
4. Voodoo Idol
5. Primitive
6. Caveman
7. The Crusher
8. Don't Eat Stuff Off The Sidewalk
9. Can't Find My Mind
10. Jungle Hop
11. The Natives Are Restless
12. Under The Wires
13. Beautiful Gardens
14. Green Door
15. Human Fly
16. The Way I Walk
17. Domino
18. Surfin' Bird
19. Lonesome Town
Escúchalo!.
http://www.zshare.net/download/the-cramps-psychedelic-jungle-gravest-hits-rar.html