Entrega No 192.
De lo que suena........................
Lo más reciente que esta muy buena banda de Berkeley California nos ha entregado hace apenas unos meses, se trata de unos consentidos de este Siniestro Sitio,
Tiger Army
y su gran album titulado "Music from Regions Beyond, una placa bastante bien lograda, Psychobilly, Punk Rock y ese sonido de bastante buenas hechuras que los "Tiger" imprimen en cada uno de sus temas, a mi gusto es de lo mejor que esta agrupación no ha entregado.
Tiger Army / Music from Regions Beyond (2007 Hellcat Records)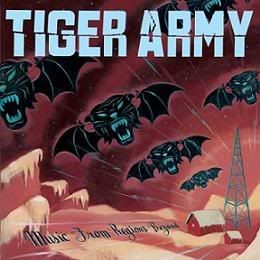 Tracklist.
1. Prelude: Signal Return
2. Hotprowl
3. Afterworld
4. Forever Fades Away
5. Ghosts of Memory
6. LunaTone
7. Pain
8. As the Cold Rain Falls
9. Hechizo de Amor
10. Spring Forward
11. Where the Moss Slowly Grows
*Este link estará disponile por poco tiempo ya que es un album reciente, si tienes oportunidad de comprar el original no dudes en hacerlo!.