Entrega No 198.
Punk Rock, HC Melódico................
Y se trata de una gran banda que no puede faltar en este Siniestro Sitio, una agrupación ícono de la escena Punk Rock- HC del denominado "estílo" Californiano, ellos son
Bad Religion
, formados desde 1980, son un legendario conjunto que llegó a imprimir su sonido bien elaborado y efectivo, de buena velocidad, que al paso del tiempo se ha hecho mucho más maduro y sólido. Influencia directa en varias agrupaciones que gustan de ejecutar este género, han tenído cambios de alineación y regreso de integrantes durante sus 27 años de trayectoria...... una banda de respeto!.
Este es su 3er album, editado en 1988 después de un par de años de inactividad bajo el sello Epitaph, sello que por cierto fué fundado por el guitarrista de la banda Brett Gurewitz, en este album aparecen los integrantes originales, 15 buenos tracks de ese gran sonido que
Bad Religion
elabora.
Bad Religion / Suffer ( 1988 Epitaph)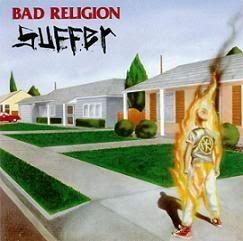 Tracklist.
1. You Are (The Government)
2. 1000 More Fools
3. How Much Is Enough?
4. When?
5. Give You Nothing
6. Land of Competition
7. Forbidden Beat
8. Best for You
9. Suffer
10. Delirium of Disorder
11. Part II (The Numbers Game)
12. What Can You Do?
13. Do What You Want
14. Part IV (The Index Fossil)
15. Pessimistic Lines