Una colaboración a este Siniestro Sitio!....
Así es!, el bien amigo Punxfat que en el blog hermano

Palabras de Punxfat:
Mas Fusiones Punk-Raras-Diferentes???
Kings of Nuthin, Bostón Massachusetts, escencialmente 8 fanaticos del Punk y Rock and Roll de los 50´s se unen para formar este nuevo sonido "Punkrock Rhythm & Blues" en 1999, entre sus filas 1 piano, 3 saxos se unen al contrabajo, la batería y las voces rasposas estilo Darkbuster o DKM, han sido soporte de todos las bandas famosas de Bostón, pero su calidad trasciende a otras latitudes del planeta.
Aquí pero en ningún Lado....por Ahora!!!PunxfaT.
Kings of Nuthin' / Punkrock Rhythm & Blues (2005)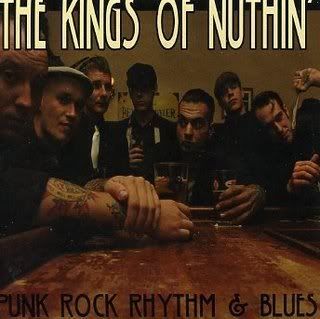 Tracklist.
1. Over The Counter Culture
2. If I were you
3. For you*
4. Banned from the pubs*
5. Only time
6. Quick fix
7. Women and Cadillacs*
8. Nation on fire*
9. Here we are nowhere*
10. Judge nor jury
11. No brains*
12. Tore up*
13. You dont think
14. I smell a rat*
Gracias Punxfat!!.