Entrega No 184.
Trepidante Psychobilly !!!!!!!!!
Con una brutal agrupación formada en 1996 en Curitiba, Brasil:
Os Catalépticos
, un trío cuyo sonido nos revela su marcada influencia del Punk traducida en un Psychobilly vertiginoso, con mucha velocidad y un espectacular contrabajo en manos de un personaje de nombre Dr. Gus Tomb, temas interpretados en ingles con una lírica en relación al horror y culaquier tipo de insanidad.
Titulado "Little of Insanity", este album contiene 13 temas de buen psychobilly, horror, velocidad y adrenalína.
Os Catalépticos / Little of Insanity ( 2002 Fury Records).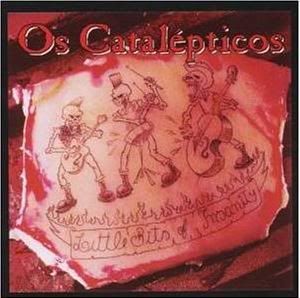 Tracklist.
1. Cannibal Holocaust
2. Gambling With a Demon
3. Serial Joe
4. Closing My Coffin
5. Henry
6. Asshole
7. Atomic Zombie
8. Hearse Driver - Os Catalepticos
9. Catalepsia
10. Demented Symptoms
11. Run Free from the Nightmare
12. Death Train
13. Psychobilly Is All Around