Entrega No 38.Armando la fiesta con los Superheroes !!!!
Llegan directamente de California a protegernos con su divertida mezcla de sonidos, muy alegres, muy movidos. Ellos son The Aquabats, una muy buena banda que ejecuta un ska,surf,punk, de muy buena manufactura. Estos tipos son todo un show!, disfrazes, buen baile, mucha diversión, y con un estílo muy autentico y original.
Este es su disco The Fury Of Aquabats, un muy buen disco!
The Aquabats / The Fury Of Aquabats
( 1997 Time Bomb Records)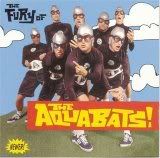 Tracklist.
1. Super Rad!
2. Red Sweater!
3. Magic Chicken!
4. Fight Song!
5. Cat With Two Heads!
6. The Story Of Nothing!
7. Captain Hampton And The Midget Pirates!
8. Martian Girl!
9. Attacked By Snakes!
10. Idiot Box!
11. Powdered Milk Man!
12. My Skateboard!
13. Phantasma Del Mar!
14. Lobster Bucket!
15. Theme Song!
16. Bonus Track
Escúchalo!
http://www.gigasize.com/get.php/305116/The_Aquabats__The_Fury_of_the_Aquabats.rar