Entrega No 36.
De los clásicos!!.
Dejó un disco de sencillos con el que cerró su ciclo musical una gran banda originaria de Londres Inglaterra lidereada por Brett Anderson, ellos son The London Suede mejor conocidos como Suede.

Este es realmente un gran disco porque sintetiza todos los exitos de la discografía de la banda, canciones que ya son clásicas y que hicieron de esta agrupación, una de las mejores bandas de la música británica.

Suede / Singles (2003 Sony Music).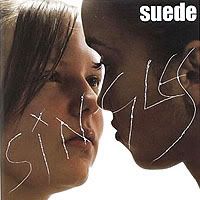 Tracklist.
1. Beautiful Ones
2. Animal Nitrate
3. Trash
4. Metal Mickey
5. So Young
6. Wild Ones
7. Obsessions
8. Filmstar
9. Can't Get Enough
10. Everything Will Flow
11. Stay Together
12. Love the Way You Love
13. Drowners
14. New Generation
15. Lazy
16. She's in Fashion
17. Attitude
18. Electricity
19. We Are the Pigs
20. Positivity
21. Saturday Night
Escúchalo!.