Entrega No 32.
Más Ska/Punk del bueno!!!!!.
Para comenzar este nuevo año, esta entrega va dedicada a otra de las bandas favoritas del autor intelectual y material de este espacio. Ellos son Less Than Jake! , Surgidos en 1992 en Gainesville Florida, Less Than Jake es una de las agrupaciones más consolidadas de la escena ska/punk norteamericana.
Less Than Jake es un claro ejemplo de como debe sonar una banda que guste de ejecutar este género musical, buenas guitarras, buen bajo y unos metales discretos, pero que saben bien el momento en que tienen que sonar.
Tras haber realizado trabajos con sellos independientes, luego con Capitol Records, en el 2003 llegan con su séptima producción titulada Anthem bajo el sello Sire Records (Warner Bros). Un muy buen disco de una muy buena banda!!.
Less Than Jake / Anthem (2003 Sire Records).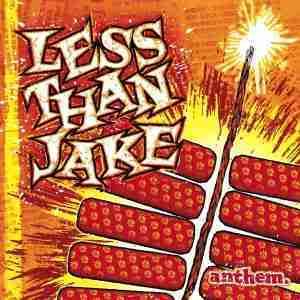 Tracklist.
1. Welcome To The New South
2. Ghosts Of You & Me
3. Look What Happened (The Last Time)
4. The Science Of Selling Yourself Short
5. Short Fuse Burning
6. Motown Never Sounded So Good
7. The Upwards War & Downwards Cycle
8. Escape From The Bomb House
9. Best Wishes To Your Black Lung
10. She's Gonna Break Soon
11. That's Why They Call It A Union
12. Plastic Cup Politics
13. The Brightest Bulb Has Burned Out
14. Surrender
Escúchalo!.
http://www.gigasize.com/get.php/270695/Less_Than_Jake__Anthem.rar