Entrega No 31.

Punk Rock Femenino!!

Esta vez se trata de un trio de féminas que gustan de ejecutar un Punk Rock, melódico y hasta "baladezco" de bastante buenas hechuras!. Ellas se hacen llamar The Eyeliners, buena banda de Albuquerque Nuevo México, que también ha sido parte del cartél del Vans Warped Tour.

Un sonido de buenas tablas, sencillo y sin mucha complicación, unos riffs de guitarra muy acordes con su propuesta y mucha energía en sus canciones, son las características de la música de Laura, Gel y Lisa. Dejo su album del 2005 titulado "No Apologies".
The Eyeliners / No Apologies (2005 Blackheart Records).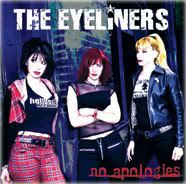 Tracklist.
1. Think Of Me
2. Destroy
3. All I Wanted
4. The Promise
5. Voice Of Reason
6. Can't Get Enough
7. Bleed Til Today
8. Next Big Thing
9. No Apologies
10. Do Anything You Wanna Do
11. Hanging On
12. Disappointed
13. Mea Culpa
14. Streets And Avenues
Escúchalo!.
http://www.rogepost.com/n/2190050148