Entrega No 214.
De Horror Surf...................
Con esta buena banda formada en 1996 en Van Nuys California, un quinteto que ejecuta un sonido instrumental, lleno de atmósferas de teclados y sonidos que remontan a algun film de horror al igual que el nombre de la banda que es extraída de una pelicula de 1968, bastante activos y logrando el reconocimento de la escena, ellos son
The Ghastly Ones
.
Este es su album de 1998 "A- Hauting We Will Go-Go", 20 buenos tracks de Surf, Garage escalofriante!.
The Ghastly Ones / A- Hauting We Will Go-Go (1998 Geffen Records)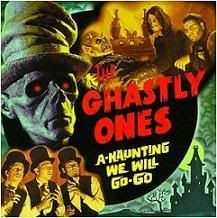 Tracklist.
1. An Invitation ...
2. Ghastly Stomp
3. Hangman Hangten
4. Thunderhead
5. Pacific Ghost Highway ...
6. Haulin' Hearse
7. Lonesome Undertaker
8. Mysterion
9. The Boys Go Creeping ...
10. Diabolo's Theme
11. Action Squad
12. Deadbeat
13. Spookmaster
14. Doctor Diabolo Speaks ...
15. Attack Of Robot Atomico
16. Los Campiones Del Justicio
17. Hollywood Nocturne
18. Surfin' Spooks
19. A Final Warning ...
20. (Everybody's Doin') The Ghastly Stomp