Entrega No 222.
Punk Rock......................
Ahora corre a cargo de
No Use For A Name (NUFAN)
, banda formada en 1987 en San José California, un muy buen conjunto con una participación destacada en la escena Punk Rock Norteamericana, buen sonido, de buena velocidad y lleno de armonía, muy activos y con una extensa discografía.
Este album es una recopilación de sus mejores temas a la fecha editado este año y fué un disco bastante esperado "All The Best Songs", puros "cañonazos" de esta gran agrupación.
No Use For A Name / All The Best Songs (2007 Fat Wreck Chords).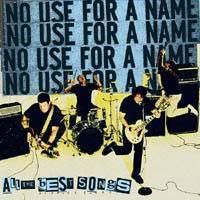 Tracklist.
1. International You Day
2. Justified Black Eye
3. Coming Too Close
4. Invincible
5. Dumb Reminders
6. Fatal Flu
7. Life Size Mirror
8. On the Outside
9. Soulmate
10. Let Me Down
11. Permanent Rust
12. Chasing Rainbows
13. Not Your Savior
14. Black Box
15. The Answer Is Still No
16. Straight From the Jacket
17. Any Number Can Play
18. For Fiona
19. The Daily Grind
20. Let It Slide
21. Feeding the Fire
22. Part Two
23. Growing Down
24. Exit
25. History Defeats
26. Stunt Double