Entrega No 225.
Al 2 X 1 .........................
Aquí va un par de peticiones a este Siniestro blog.
Primero algo de una legendaria e influyente banda de Tacoma Washington formados en 1960 y disueltos ocho años más tarde,
The Sonics
, quinteto que gustaba de ejecutar un sonido Garage Rock 4 LP´s y buena cantidad de 45's es es legado de esta gran agrupación, este es el primero de ellos, de 1965 "Here Are The Sonics" un gran album.
The Sonics / Here Are The Sonics (1965 )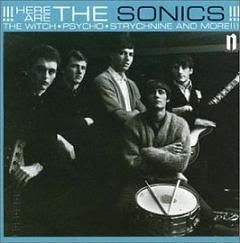 *(portada de la reedición de 1999 por Norton Records)
Tracklist.
1. The Witch
2. Do You Love Me
3. Roll Over Beethoven
4. Boss Hoss
5. Dirty Robber
6. Have Love Will Travel
7. Psycho
8. Money
9. Walkin' The Dog
10. Night Time Is The Right Time
11. Strychnine
12. Good Golly Miss Molly
13. Keep A Knockin'
14. Don't Believe In Christmas
15. Santa Claus
16. The Village Idiot
Siguiendo en una línea similar, ahora va algo de una agrupación formada en 1981 en New York
The Fuzztones
banda que revive el sucio sonido Garage, Punk y Psicodélia con cierta fasinación por el horror, sin duda también un conjunto influyente en la escena local, pero también con bastante aceptación en Europadonde algunos de sus albums fueron editados antes que en Norteamerica, motivo por el cual deciden cambiar de locación. "Lysergic Emanations" un muy buen disco que mi buen amigo Madmanmau (http://mipechosobretuespalda.blogspot.com), me hizó el favor de postear para este Siniestro Blog y para el visitante que lo solicitó (gracias Mau).
The Fuzztones / Lysergic Emanations (1985 ABC)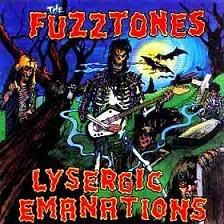 Tracklist.
1. Gotta Get Some
2. Journey to Tyme
3. Ward 81
4. Strychnine
5. Radar Eyes
6. Cinderella
7. Highway 69
8. Just Once
9. She's Wicked
10. As Time's Gone
11. Living Sickness
12. Bad News Travels Fast
13. She's Wicked
14. Epitaph for a Head
15. Cinderella
16. Green Slime