Entrega No 226.
Rockabilly............................
Con una buena agrupación originaria de San Diego California con ya varios años de trayectoria comenzando esta a principios de los 90's,
The Paladins
un trío (bajo guitarra y batería) que ejecuta un Rockabilly cuyo sonido revive a esas bandas clásicas sesenteras incorporando a su sonido otros estílos como Country, Surf, Jazz etc.
Este es un recopilatorio con destacados temas grabados a los largo de sus 8 albums editados titulado "Palvoline No 7".
The Paladins / Palvoline No 7 ( 2001)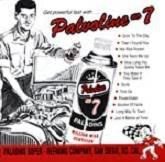 Tracklist.
1. Goin' To The City
2. Then I Found Yo
3. Hot-Rod-Rockin'
4. She Tears Me Up
5. How Long You Gonna Tease Me
6. You Make It, They Take It.
7. Gone
8. Tore Up
9. Powershake
10. Alcohol Of Fame
11. Long Way To Town
12. Just A Matter Of Time