Entrega No 29.
Pop Sinfónico. The Polyphonic Spree!!.
Pop Sinfónico, este fué el termino que encontré en la red para definir la música que ejecuta esta gran banda norteamericana surgida en Texas. The Polyphonic Spree es una propuesta que con poco tiempo de haber visto la luz, se ha ido consolidando ya que definitivamente, el concepto es muy original.
Tim DeLaughter lider, director y vocalista de esta agrupación, al terminar con su banda anterior llamada Tripping Daisy, dejó todo atrás y decidió revolucionar completamente el sentido de su creación musical así como su imágen y se dió a la tarea de crear este concepto al lado Mark Pirro y Brian Wakelan(integrantes oficiales), actualmente la banda se presenta hasta con 24 integrantes, todos con una imágen de "hippie moderno", vistiendo túnicas y descalzos en el escenario, en sus canciones se aprecian la sección vocal y coral, las flautas, los órganos, en fín, es toda una orquesta ejecutando atmósferas musicales, son geniales.
Esta es su segunda grabación del 2004, y lleva como titulo
"Together We´re Heavy".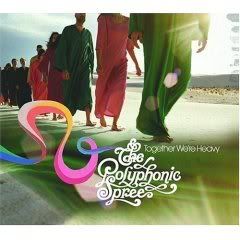 Tracklist.
1. Section 11 (A Long Day Continues / We Sound Amazed).
2. Section 12 (Hold Me Now).
3. Section 13 (Diamonds/Mild Devotion To Majesty).
4. Section 14 (Two Thousand Places).
5. Section 15 ( Ensure Your Reservation).
6. Section 16 (One Man Show).
7. section 17 (Suitcase Calling).
8. Section 18 (Everything Starts At The Seam).
9. Section 19 (When The Fool Becomes A King).
10 Section 20 ( Together We're Heavy).
Escúchalo.
http://www.rogepost.com/n/8556125060